The world is exploding! It's a constant snap, crackle, BOOM! on this Friday July 3rd in Chicago. The global pandemic has prevented us from massive park gatherings for our annual organized fires in the sky, so instead individuals have taken it upon themselves to light it up! And man, they are taking their job seriously! For a moment I thought I was hearing a hard rain falling on the neighbor's roof. Turns out a steady stream of fireworks' echoes bouncing off brick buildings and bright flashes in the night sky is not that unlike a massive summer thunderstorm. And tonight it was really coming down. 
Am I proud to be an American? Tough question today as I'm pondering whether to birth my November baby in the United States or in México (where her father awaits her appearance in the world.) Sure, I want us to have matching mommy and baby birth certificates, but she's also scheduled to arrive not more than a week after the 2020 presidential election which will be yet another pivotal notch in the historical height chart, however it pans out. I want my child to have everything, and that very promise was once the American Dream. But these days, most American's life fantasies take place well beyond our tumultuous borders, where the pandemic numbers aren't embarrassingly on the rise due to our country's lackadaisical response to taking initial precautionary measures. Doh!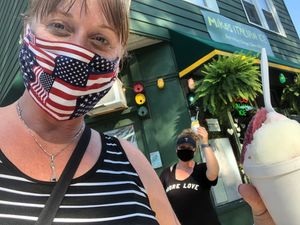 So for now, this masked American is just waiting for the go-ahead, for neighboring countries to allow for non-essential travel so I can return with a giant belly to my daughter's home country and introduce her to my fantasy real world — the snowbird lifestyle that most people dream to finally have when they've reached a ripe, old age, but which I've made my norm since age 36. And yet, as I prepare to make the decision to deliver her in paradise, I begin to overthink the repercussions of projecting my free-spirited lifestyle upon my offspring. Is this what she would want? Or would she choose to be "safe" and be an American instead?
Of course, she will be able to acquire US citizenship through her mother no matter where she is born. So, it's the other big decisions I have to narrow in on for our lives and lifestyles that are really poking me right now like an impatient, inquisitive toddler: What climate will she experience in her early months? Which language will become her dominant tongue? Can a nomadic, international co-residency work for a mother and child? Will I be able to acquire remote work that will support us and still be creatively rewarding? Should her father be listed on the birth certificate? Will he ever be able to come to the US? What names are easily pronounceable in English and Spanish? Can she sleep in a pack-and-play for the first six months? When will my breasts return to a comfortable size? 
And these questions, as trivial or weighted as they may be, bombard my brain space with barely any time for the flares to fade. Just as I think I've found some clarity in our future plan and the smoke begins to dissipate, yet another rapid-fire round of explosives fill the air. But this fireworks show isn't accompanied by "oohs" and "ahhs." That'll have to wait until the little bomb drops on November 14, in one country or the other.