Electronic Press Kit (EPK)
about stolie
Stolie is a singer, songwriter, multi-instrumentalist, and loop-pedal artist based out of Chicago, Illinois, USA. With over 25 years of experience in the music industry and performing on stages internationally, she's a seasoned pro. A constant road-warrior and absolutely fearless, Stolie immediately turns strangers into friends through her captivating, humorous and versatile live performances.
Stolie debuted as an original songwriter in the mid-90s and released her first original tunes on cassette! Empowered by the ambition of Ani DiFranco, the rock-angst of Alanis, the roots of Sheryl, the heart-wrench of Jewel, Björk's quirkiness and the genius of Tori, Stolie has run the gamut of genres in her 20+ career of song-writing. Comfortably riding the pop wave with some jazz swing, rock wailers, old-timey blues, country twang, and story-telling charm, Stolie has the topical spread and witty live banter to bring an audience from their emotional knees to standing double-ovations. 
In the late 90s, during her freshman year at Illinois Wesleyan University, Stolie was invited to open shows for the Bluemoon Coffeehouse folk series, warming up the stage for artists like Willy Porter and Vance Gilbert. During a study-abroad year in London (studying English, har har), she played the open mic circuit, landing paying gigs, was mugged while playing in the tube, and ditched vegetarianism for chicken.
Being the hustler she is, and taking the same approach back in Chicago, Stolie found more gig opportunities. She recorded and produced her self-titled CD on a 4-track and in a studio. After graduating college, a booking agent signed her to play the college circuit throughout the midwest and east coast. During this time, her internship at Bloodshot Records led to a part-time position doing radio promotions, tour publicity and eventually kicking off their social media campaign by creating their MySpace account. Here, Stolie learned the back-end of the biz, but was also given permission to take time off to tour.
From 2000-2004, on her own or teaming up with other like musicians (Victoria Vox, Dave Tamkin, Dan Darrah, Kat Parsons), Stolie continued to play the college circuit, toured the country in support of her original music, formed a rock band, recorded collaborative albums and released her next pop-electronic album, Satire-Laden Melodies. 
Stolie has since released over a dozen albums; over 100 original songs are available on all streaming services. She established her own record label in 2007 and has been performing full-time since that time. She shifted for a decade into the realm of children's music and continues to write, record and perform as Super Stolie. In 2015, after 12 years dedicated to playing primarily for the kiddos, Stolie chose to escape the cold and now spends the winter months living and playing in Puerto Vallarta, Jalisco, México. The summer months are spent playing for kids and touring throughout the US and Canada. 
Stolie started using loop pedals in 2003 to layer beats and harmonies and incorporate rhythms and beatbox, creating full arrangements on the fly. Her seamless technique was captured in a live performance on November 10, 2018; Live at the Listening Room Phoenix is available as a digital download and now as USB Bracelet.  
Stolie has toured extensively throughout the US and Canada in support of her original music. She's shared bills with musicians like Neko Case, Willy Porter and Vance Gilbert, collaborated with songwriters Victoria Vox and Dave Tamkin, contributed vocals to recordings by Chicago bands J Davis Trio and Dan Darrah, and hosted special guests on her open mic stages like comedians, Hannibal Buress and Michael Palascak, and Eddie Vedder from Pearl Jam. 
Summer of 2019, Stolie embarked on a tour called "60 Shows in 100 Days" en route to her winter home in Puerto Vallarta. The tour will brought her through western Canada, down the west coast, through Colorado, Nebraska Kansas and down through Texas.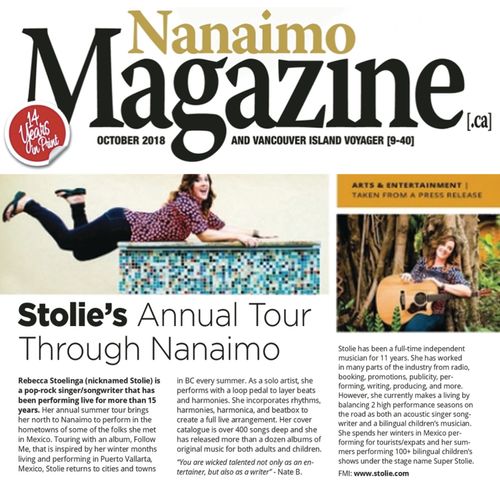 Stolie Poster
11x17 prints available.
Download for promotional purposes and social media.