I discovered I was pregnant on March 7, 2020, 10 days before a mandatory worldwide quarantine was put into effect. Those first 10 days of knowing were filled with fear, excitement, uncertainty, tears and wonder. I had been feeling for several years that I was ready for a change in my life, a shift, a new focus. I knew "the something" would present itself with clarity at the right time, but I was not expecting this kind of change. Only a handful of people knew, including my sister who was ironically scheduled for a hysterectomy that week, and who was with me on the phone from Atlanta to experience the 3 positives pee sticks -- in Spanish. How's that for clarity?!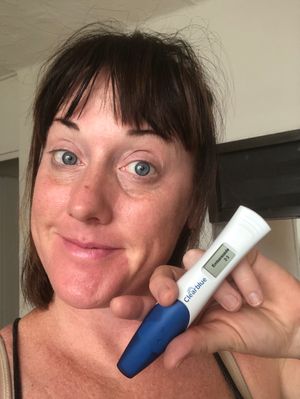 "Embarazada" = Pregnant, 2-3 weeks
I am a freelance musician and creative and had spent five winters living and performing in Puerto Vallarta, México, a large coastal town on the Pacific Ocean, and a popular destination for tourists and those looking for the snowbird lifestyle. A permanent vacation lifestyle had become my norm, but this Mexican St. Patrick's Day was a purple horseshoe of a different color. I had an afternoon gig with my percussion guy and hugger-extraordinaire, Tongo, cranking out traditional Irish folk ditties at a restaurant called El Rio BBQ, a giant outdoor sanded patio on the river that can accommodate up to probably 500 seated patrons with nearly 100 on the dance floor. But on Tuesday March 17, 2020, we were lucky to be playing for a total of 50 people. 
Those who did venture out on one of the biggest party days of the year were cautiously dispersed among the sea of white plastic tables and chairs. There were nervous whispers and speculations about whether or not any of us should really be out in public when there was unnerving news circulating in the U.S. and Canada calling for mandatory lockdowns. But we managed to have fun, Irish jigging with Carl in his kilt, passing green jello shots and writing inappropriate limerick poems. I was pretending to really want the Guinness bar owner, Kurt delivered to the stage (I did!), but I only took a single sip. I was pregnant, remember!?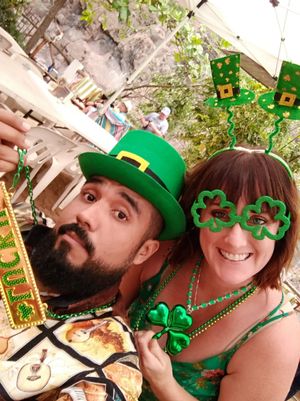 Tongo and Stolie, feeling Lucky
And I wasn't ready to start sharing my new family news. Tongo is a family man — his wife and daughters had joined us for the festivities the prior year. As we both devoured chef Hollis' mouth-watering smoked corned beef and cabbage dish after our set, Tongo unsolicitedly told me the two worst things about having kids: you'll get no sleep, and you have to do homework all over again. I heeded his words of wisdom behind my smise. 
From there, I relocated to St. Pat's gig #2, my 7:30pm at the upstairs piano cabaret bar at Incanto Theater. I planned to present a mix of originals along with some Irish-flavored tunes, including a performance art music piece featuring corned beef, cabbage and potatoes which I would eat on stage. (I'm not sure that two servings of this cuisine is a good idea for anybody on any day.) 
Before the show began, I got a WhatsApp message from Enrique de Allende that our much-anticipated concert with Kim Kuzma, scheduled to take place the following evening at the 100-year old Our Lady of Guadalupe Catholic parish in Puerto Vallarta, was to be postponed due to orders from the higher powers that be (God, a.k.a. the main priest in Guadalajara). Yet another nail in the speculative coffin that this shit was really going down. (Sorry, God.)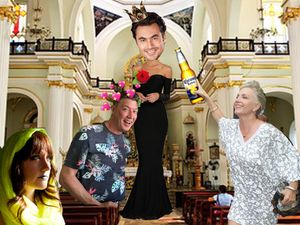 (L-R: Stolie, Derek Carkner, Enrique de Allende, Kim Kuzma)
I set the tone for the performance by saying "I like the distance between the tables," gesturing to the spacious positioning that seemed unusual for a tiny cabaret. The patrons chuckled. We were recording my show that evening for a future live album, so we rehearsed purposeful applause and hearty laughter. Luckily there were about 25 people there to support the background audience noise I was hoping to capture.* 
"I know it's been a really weird time. If you guys are like me, you've been on social media constantly and getting a headache reading about everything. This show is not going to be about that. I will be playing a mix of originals and covers and just trying to be in this moment and having a good time. So, that's our goal today! Are you in?" 
Applause. Audience "woos."
We "No-Nay-Nevered," I divulged the story of my first Trip-Advisor review (in a song called "1-Star Review"), I dedicated "Danny Boy" to an audience member named… Daniel, debuted "On the Sand" — the original piano song I was supposed to sing at the now-postponed church show the following evening, and reflected on my experiences with dating websites and passing herpes to a guy I made out with in high school in the back seat of a Jeep Grand Cherokee. 
Needless to say, we all thankfully stepped out of reality for a good two hours. 
This show would be my final performance in front of people for nearly 4 months. The next time I'd hear live applause would be in July, in the middle of a dispersed bar patio in Chicago, watching moving masked faces ordering drinks from the outdoor bar. And me? Sipping soda water, anticipating my belly-button to pop in the middle of "Jolene." 
Listen or download Contagious: Live at Incanto Vallarta here.