The other morning I was walking to my car and as I shuffled through dry, dead leaves on the sidewalk, thus arrived my first spoken word of the day: "fall." 
It's the end of August, which I've always considered a hard-core summer month, and it continually baffles me that October is just two months ahead of us. Yep, fall is coming. 
I love change — of seasons, of scenery, of work-flow, of work-out routine. It inspires me and ignites a little fire to kick ass all over again. However, I do believe that easing into a transition is pretty crucial to get your footing and to set you up for success. It's like slowly merging kitty kibble when your puss has a puking problem. 
About 6 months ago—actually specifically March 18, 2020—change arrived on a global level. Hard-core change. This wasn't that welcome opportunity to gear up for the next big thing. There was no "on-your-mark." No "get set." Certainly no "go!" It was more of a full stop. 
Remember the pandemic panic era (PPE)? 
It started with a "what the fuck?" And then a "what the fuck am I gonna do?" And then a roll-call of 1-800 numbers to freeze accounts, ask forbearance, close all unnecessary accounts. (Though canceling Netflix was not an option. Instead, mom, sis and I decided to merge into a family account.) 
This was followed by manic shopping and over-stocking, piles of dishes, sleepless nights, applications for grants, sedentary relapse, distraction and lack of motivation, loneliness, paranoia, tears, urgency for resolution and binge-watching Netflix. 
It hit us hard! Like someone yanked the plug outta reality forcing us to immediately adapt to candles and pumping our own water. 
We were not ready!!!!!!! 
(Take a deep breath.)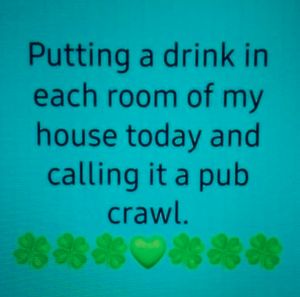 Those first two weeks turned into a month. And then 2 months. And now nearly six. But just as the seasons have changed, so have we adapted with time. 
Thinking back to the PPE, I'd prefer to remember a fully-stocked kitchen and culinary breakthroughs, bonus time to sleep in and take naps, newly-learned technology and innovative virtual work pitches, relaxation time, a guilt-free dedication to hobbies, daily phone and video chats with loved ones, reflection, calm, patience…..and binge-watching Netflix. 
Let's take a lesson as we approach this autumnal equinox. Embrace the changes, however and whenever they may arrive. Adjust your definition of the experience. Have faith in your resilience. Get the brooms and rakes ready to pile up those leaves and slow-mo trust-fall into them like an Old Navy sweater-weather commercial.
#falliscoming #fall #autumn #pandemic #panic #ppe #Netflix #OldNavy #sweaterweather #change #resiliance