I spent several months logistically planning a tour in 2019 that would last 9 weeks and cover nearly 10,000 miles. 60 shows in 100 Days would take me from from Chicago to Vancouver, down the west coast to Los Angeles, back east to Denver, Nebraska, south through Texas, over the border to México and finally landing in Puerto Vallarta for the winter season. In preparation, I traced Google Maps to calculate mileage and travel time, making sure there was sufficient time to rest and shower before gigs and sleep before wheels up in the morning.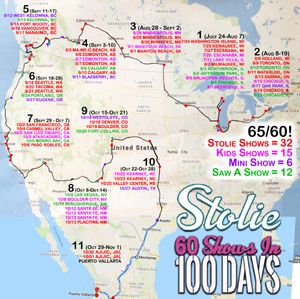 I had email strings going with probably more than 200 gig options to eventually land on the 60 confirmed shows. I circled back to my past shows, reached out to friends who could host house concerts, and found new performance venues, following up diligently to confirm show details, addresses and payment promises. I attempted to budget gig earnings and projected merchandise sales to determine whether I needed to find free housing or if I could splurge on a unique AirBnb or take myself out to dinner rather than eating a peanut butter sandwich in the car.
Once I hit the road in late August and was actually living the course that I had planned, I could faithfully allow myself a little wiggle room to broaden the experience with impulse and lean into the unknown! On free days between playing and driving, I veered off-course to pepper in life adventures — gazing at stars from a cabin in the Canadian Rockies, solo hiking trails of Mt. Rainier, sipping at wineries in Kelowna and Napa Valley, getting lost in Wolf Meow Museum in Albuquerque, feeling small on the edge of the Meteor Crater near Winslow, Arizona. And even as I write this short list, I'm immediately reminded of the wonder and freedom that these kinds of explorative experiences spark for me. It's absolutely glorious! 
Following the whims that halo the structure is what really breathes personality into the grandest of calculated schemes.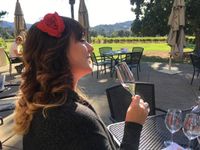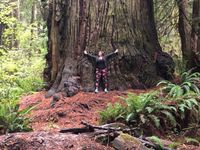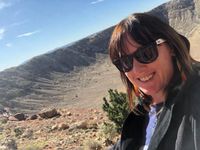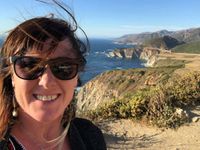 It's about finding the balance between analytical and creative. And that can sometimes be a sliding scale. I really do trust my gut and I believe that everything will work out. Maybe not always in the way I had planned, but there is always an inevitable end result, a destination, a finale. So even if you're coming into whatever it is with a degree of preparedness, if all those plans go out the window, at least you've got your suit on, ready to jump ship and swim to the shore. You'll get there! Your determination will prevail!
Fast forward to March 2020. <Insert end-of-the-world descending fanfare sound effect>
A mandatory quarantine is put into place worldwide. All immediate plans come to a halt. Venues shut down and for performers like me, any shows on the schedule for the upcoming weeks start to evaporate. The cash stash begins to dwindle while rent is still due April 1st. Grants are applied and denied. "Unprecedented" and "one day at a time" become regular in daily vocabulary. 
Now, it's choose your adventure — succumb to self pity and gain the "Quarantine 15" or remember what your mama taught you:
"Adjust or self-destruct."
No one was prepared for this! Instructions were not included. So this is where instinct kicks in, putting your resilience to the test in an arctic forest of famine. Are you going to sit around and watch everything freeze up while you wither away? Or will you put on your boots and go hunt some white rabbits? 
Those who thrive during Covid-19 will have made a conscious effort to forage a new path, to fuel innovation, or resolve to U-turn completely and follow that mysterious westbound exit, even though an unforeseen outcome awaits. This is the time to allow your impulse to take the wheel, to off-road to new experiences and maybe even take some wrong turns along the way. You're going to get there eventually, so gas up, set the cruise and start dreaming up the magnificent plan for your next big road-trip.